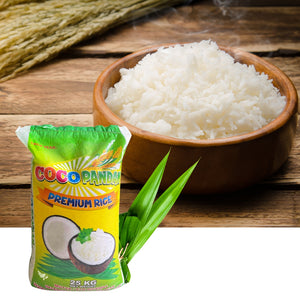 Discover the delectable taste of Filipino cuisine with Coco Pandan Rice by BigasPh – your destination for online bigas delivery in the Philippines! Our Coco Pandan Rice brings an unparalleled culinary experience right to your doorstep, especially for those in Metro Manila seeking the authentic taste of home.

Perfectly soft and whole grain, this fragrant rice is clean, delicious, and ideal for all Filipino ulams. With BigasPh's free bigas delivery in Metro Manila, and nearby provinces you can now indulge in the rich flavors of Coco Pandan Rice without stepping out of your comfort zone.

Why choose BigasPh's online rice delivery?
Quality: Our Coco Pandan Rice is processed with precision to ensure a consistent whole grain texture that pairs perfectly with your favorite dishes.
Authenticity: Infused with the delightful aroma of pandan, our rice captures the essence of traditional Filipino flavors.
Convenience: With our Metro Manila bigas delivery, you can enjoy free rice delivery right to your doorstep, ensuring that you're never too far from a delicious meal.
Trust: BigasPh is renowned for delivering top-notch rice products, making us the preferred choice for online bigas delivery across the Philippines.

Whether you're hosting a family feast or enjoying a quiet dinner, our Coco Pandan Rice is your perfect culinary companion. With free bigas delivery and a commitment to quality, BigasPh is transforming online rice delivery, one sack at a time.

Order Coco Pandan Rice by BigasPh now and embrace the flavors of the Philippines like never before. We offer free rice delivery in Metro Manila and beyond, ensuring that deliciousness is always just a click away. Join the gastronomic journey with BigasPh, your trusted name in online bigas delivery.

Embrace tradition. Celebrate flavor. Experience Coco Pandan Rice by BigasPh.